Drag bingo for Rose Dynasty and CampOut
Join us for another fantastic night of Drag Bingo for Charity! Happening every Tuesday at the Grape & hosted by the lovely Georgia Moore.Joined by Miss Rose Dynasty 2022 Maryah Beary!
Benefitting Roes Dynasty, games begin promptly at 7PM – be sure to get here early to snag seats, or call us at (727) 803-6004 to reserve a table. $10 suggested donation per Bingo card to play! Prizes for the winners!!
Rose Dynasty Foundation Inc – A Foundation that Makes a Difference! Mentoring and providing a safe space for LGBTQ+ & spreading the message that you are 'Loved, Accepted and Wanted'
Creative Grape:
3100 3rd Avenue North , Saint Petersburg, FL, United States, Florida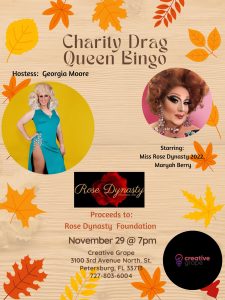 Details...
November 29, 2022
7:00 PM
Location: TBA