Chit Chat with Momma Special guest Elliot Darrow
Join Momma Ashley Rose as they chit chat with special Guest Elliot Darrow.
Elliott Darrow is a 22 year old transgender activist, artist, and animal lover. Some may recognize him from Watermark Magazine's ' Tomorrow's Leaders Today- 10 LGBTQ Youth Who Are Making a Difference in Their Communities'. He is celebrated for his work creating the art for St.Petersburg Pride's Transgender March 2019 as well as his hundreds of hours of volunteerism. Elliott graduated from Equality Florida's inaugural TransAction Leadership Academy in December of 2019 and has since advocated for healthcare amongst LGBTQ adults and youth across the state of Florida. One of his favorite things to do is help create a gender and sexuality affirming space for LGBTQ+ youth. Elliott has spoken on education panels for teachers and counselors to help aid in his fight for equality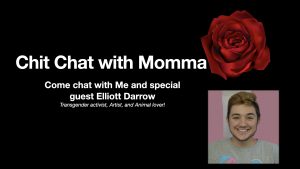 Details...
July 22, 2020
7:00 PM
Facebook Live