Back to School Bash
Join us Saturday August 6th from 6pm-8pm  for our Back to school bash bowling party in Lakeland!
This is a free event is for LGBTQ+  ages 13-18.
Pizza, Chicken Strips, Fries and Drinks will be provided!
Must RSVP by August 2nd!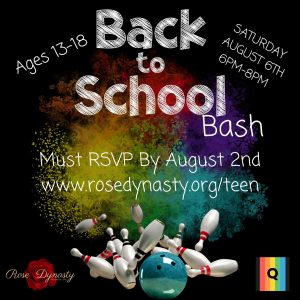 Details...
August 06, 2022
6:00 PM
Free
Location: TBA
Register for Event
RSVP is closed if you have any questions or want to still come to the event please contact us.