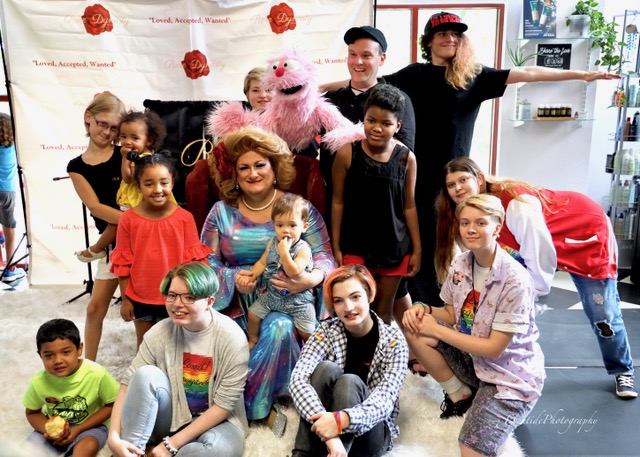 Rose Dynasty's Highlights of 2019
July 2019
Momma Ashley Rose was interviewed for Watermark25's July Issue about Polk County's first Drag Queen Story Time. The article covered several Drag Queen story times across the state of Florida.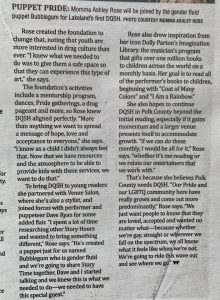 Arguably one of the most important things to come out of our busy 2019 was our Monthly Drag Queen Story Time! Our Story Times began early July with Momma Ashley Rose and Bubble Gum as hosts. They read two of Dolly Parton's books – Coat of Many Colors & I Am A Rainbow. There were over 70 wonderful people in attendance of all ages. Big hugs and thank you's to Venue Salon for hosting our Story Times each month, and to the volunteers that bring snacks & sweets for everyone to enjoy.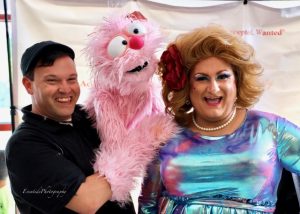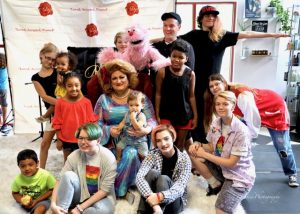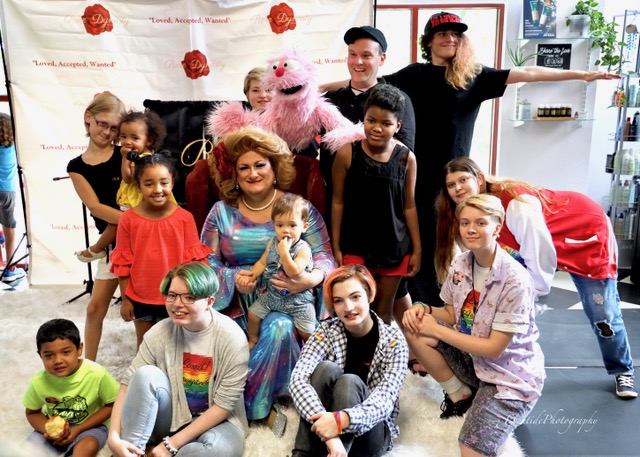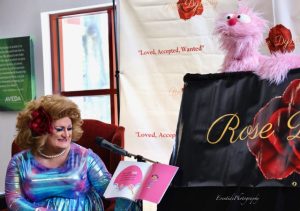 Momma Ashley Rose also performed Drag Queen Bingo at The Bird and The Book in Maryville, Tennessee. The July show was Disney Princess themed and we raised over $400 for Rose Dynasty! Thank you to all the Drag Queens that performed with Momma, everyone who attended this event, and our gracious hosts!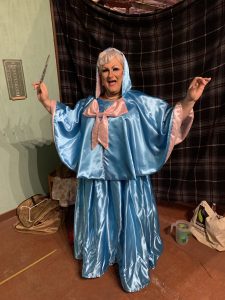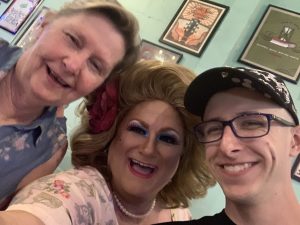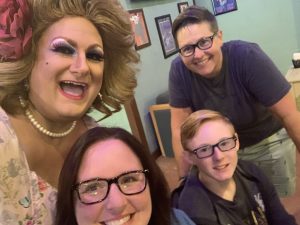 Momma Ashley Rose was a guest on SarahTalk Podcast sharing about Rose Dynasty and Story Time With Momma. She also shared how we create a family friendly and safe space often missed in the drag culture.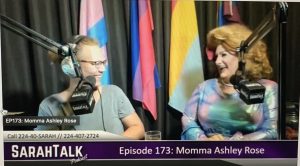 Momma Ashley Rose Was honored to be the Host of the grand opening of Rita's Italian Ice in Lake Buena Vista! They had a Christmas in July where Momma assisted in cutting the grand opening ribbon and took photos with Santa Claus!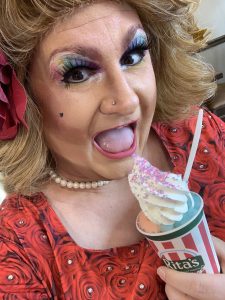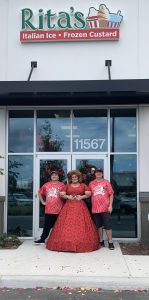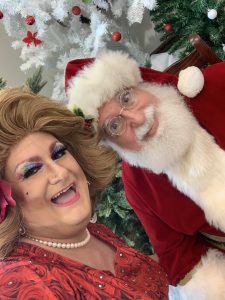 August 2019
August was the month that our Rose Dynasty Monthly Teen Group began for Lakeland! We hold it the first Saturday of every month for ages 13-20. Our first night had over 18 teens there! Momma Ashley Rose hosts the event and leads the groups in different discussions. Our discussions range from educational to video games to mental health. We strive to have these nights be fun, stress relieving, and an overall safe space for our teens. Thank you to all who came to our first night and everyone else who has attended each one after!
Momma was invited to be a guest on the Curvy Diva show on Culture radio with Ivy Ortiz Santiago. She had a blast sharing about Rose Dynasty and her journey as a child growing up and a performer.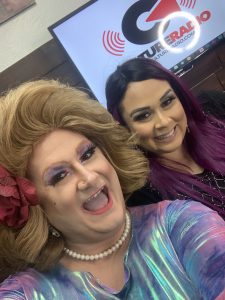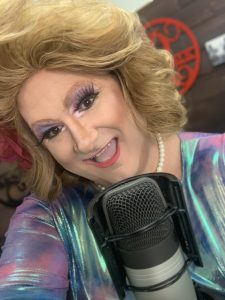 Miss Rose Dynasty 2019 Winner, Miss Tora, held a benefit for One Orlando Alliance. Rose Dynasty attended to support our fellow Queen and the benefit ended up raising $300! Special thanks to all of the volunteers and the amazingly talented entertainers for a memorable night.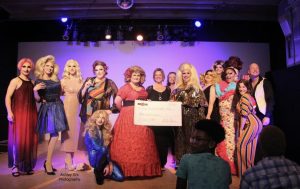 October 2019
Pride Month kicked off with Pasco Pride! Momma was MC and read Will Mason's The Boy with the Rainbow Heart. It's one of Momma's favorites! Our Rose Dynasty Booth was run by our teens as well and we all had a great time. Thank you Pasco Pride for having us and we cannot wait to see all of the friends we made again at the next Pasco Pride!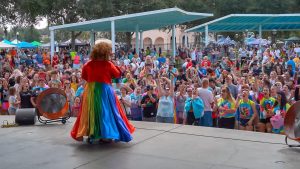 October is also Breast Cancer Awareness month. The Venue Salon hosted our Breast Cancer Benefit for the Breast Cancer Research Foundation. Momma hosted and we raised $2,000! Thank you to all of you who donated and helped us make this benefit a success.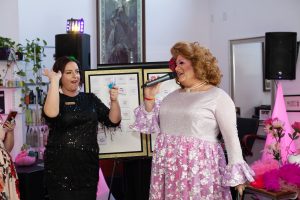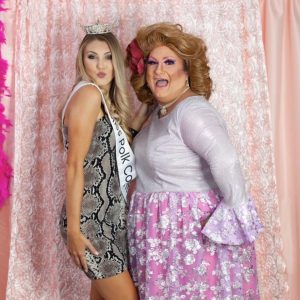 Although it was cancelled due to terrible weather, we want to thank Florida Poly-Tech for inviting Rose Dynasty and Momma Ashley Rose to your Florida Poly-Tech Diversity Fest. Hopefully the next Diversity Fest will allow us to see each other again.
We were super excited to return to Gainesville Pride ! Momma and our teens performed spectacularly. Gainesville made sure we felt welcome and were extremely happy to have Rose Dynasty back to perform. Thank you for having us again and we cannot wait to see all of you at the next event!
      Momma Ashley Rose joined the SaraTalk podcast again. This time with Sarah Ray and Will Mason the author of "The Boy with the Rainbow Heart". Momma shared her experience reading this book, and how it was so dear to her heart.  Momma encouraged everyone to buy the book and share it with anyone they were able to.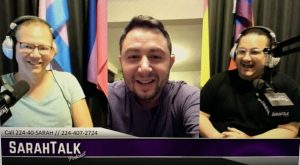 Florida Polytech College invited momma to be part of their annual drag pageant. Momma was a guest judge and guest performer. She was also joined by Alexa Rose who performed in the show. It was an honor and so much fun to be part of this event. 
To celebrate Halloween, the Rose Dynasty Teens had a Teen 1920's Murder Mystery Dinner Show. It was a fun-filled night of delicious food, amazing costumes, mystery, and crime-solving.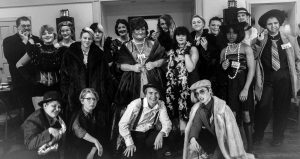 November 2019
Another extremely memorable event and trip was the Austin International Drag Festival in Austin, Texas. Momma Ashley Rose and our Rose Dynasty Teens road tripped it out to Austin and ran an amazing booth at the Festival. "This event was so special to us. It reminded us of the feeling you get when you leave a church camp or summer camp. You feel completely changed after the time you were there", was how Momma Ashley Rose explained their time at the Festival. There were many forms of Drag there that our group was able to experience. Momma participated in a Drag Story Time Round Table with Miss Kitty Litter ATX! Most importantly, our group met so many amazing people and made connections that will last a lifetime.We all met Nikki Blonsky, Tracey Turnblatt from the film adaptation of Hairspray. We connected with Camp Wannakiki, Drag off the Boat, Drag Clubhouse, Party Favors, and so many more. We cannot wait to go back to another Austin International Drag Festival! Thank you to all the friends we made there!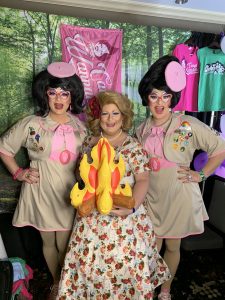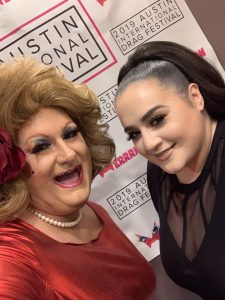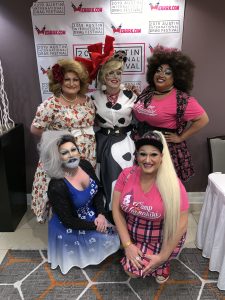 A powerful event that Rose Dynasty participated in was the Transgender Day of Remembrence. Held at Valencia College West, Momma Ashley Rose and our Rose Dynasty Teens read names in memoriam to the transgender lives lost to hate around the world. 
December 2019
To end the year, Rose Dynasty held two events during December. First, the Youth Run Yard Sale was held to raise money for their youth fund. This event was completely organized and ran by our powerful Rose Dynasty teens. We are so proud of you! Big shoutout and thank you to Skully's Barber Salon for letting us utilize their space.
We also had our 2nd round of Drag Queen Bingo at The Bird and The Book. This one was Christmas themed and we raised another $400 for Rose Dynasty! We can't wait to go back and see all our friends at The Bird and The Book. Thank you for supporting us!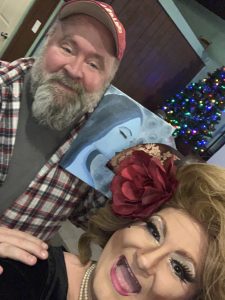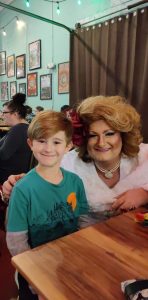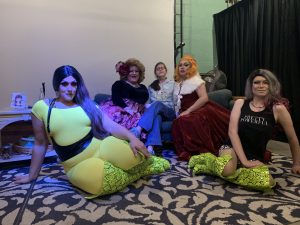 Didn't we tell you that 2019 was incredible?! These events really showcase all of the amazing friendships, partnerships, and connections that Rose Dynasty, Momma Ashley, and our teens hold. We cannot thank each and every one of you enough for making 2019 so powerful for Rose Dynasty!