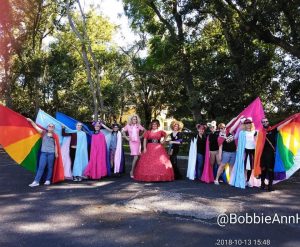 October and November have been very Prideful months for Rose Dynasty Foundation Inc. and Rose Dynasty Youth. We performed and had booths at Ocala PrideFest, Gainesville Pride and Kissimmee Rainbowfest.  It was wonderful to connect with different communities throughout central Florida and to see all of the support we have in our LGBTQ+ family.
We also marched in the Come Out with Pride Orlando and Gainesville Pride parades.  Thank you once again, to Jolly Time LLC for generously donating our Rose Dynasty Queens float and driving us in the Orlando parade. Our youth displayed their spectacular Pride flag angel wings created by Scott DeShazo and Heather O'Brien-Rothmann, and we gave out hundreds of "Free Mom Hugs" throughout the parade route.
The last couple of weekends in October found our Rose Dynasty family banding together to support our transgender and gender non-conforming community in "We Won't Be Erased" rallies.  We traveled to Orlando and St. Petersburg to raise awareness and send a message to those that would try to erase our friends and family members within this community.
November started out with quite a bang with our participation in the O-Yes (Orlando Youth Empowerment Summit).  All of the Rose Dynasty Youth had a blast and the adults made a lot of wonderful connections with other advocates in Central Florida.   Teens and adults were able to attend panels such as "How to be an Ally for LGBTQ+ Youth", "Preparing and Reaching for Career Goals", as well as, panels on medical transitioning and legal needs for LGBTQ+ youth.  During lunch, we were all treated to a lip sync battle between several of the teens which was entirely too much fun!
One of the highlights of November was getting to meet and have dinner with Chase Johnsey-Renedo.  Chase is a gender fluid, professional ballerina and uses male pronouns.  He has broken gender barriers by dancing as a female in an international ballet company, the English National Ballet in London. Chase is a remarkable young person and we look forward to hopefully collaborating on projects with him in the future. Many of our Rose Dynasty Youth were able to attend the dinner and were thrilled to meet and speak with Chase.
During Transgender Awareness Week in November, our Youth joined GIFT (Gender Identity in Florida Today and Transpire Florida) to honor those that lost their lives to hate in 2018 for the Orlando Transgender Day of Remembrance.  After sunset, the event concluded with everyone standing in a circle with candles and taking turns reading names of those that were lost.  It was a beautiful way to remember these remarkable individuals and a sobering view of what we still face in our community. .  During the day, Rose Dynasty had a booth on the Valencia College campus and our Youth made many connections with the students and other advocates there, spreading our message of everyone being "Loved, Accepted, Wanted."  Hopefully, through spreading this message, we can eliminate the need for days such as this in our future.