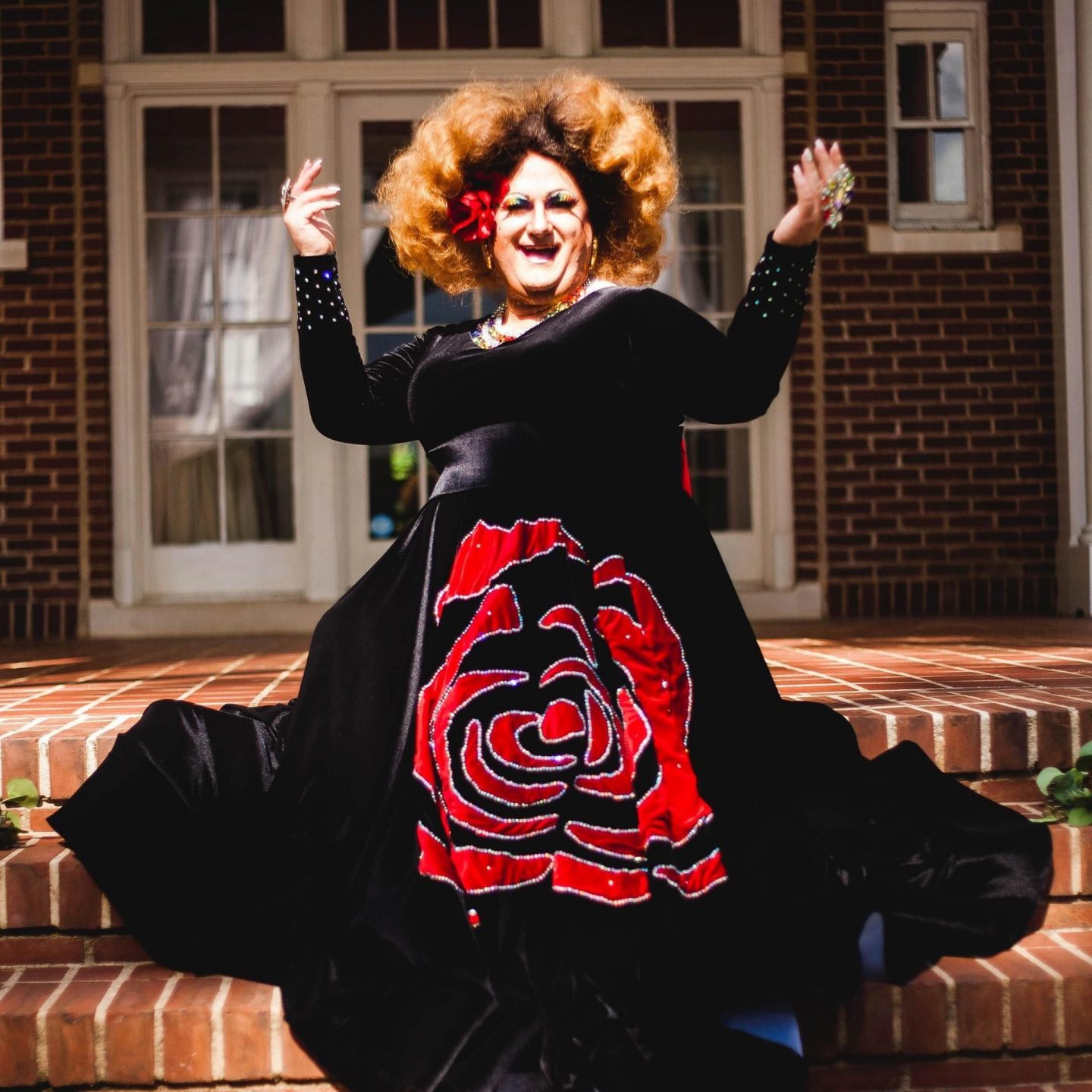 See Momma Ashley Rose's interview with OrlandoVoyager!

Click on the image to visit OrlandoVoyager's website!
Today we'd like to introduce you to Jason (Momma Ashley Rose) DeShazo.
Hi Jason (Momma Ashley Rose), please kick things off for us with an introduction to yourself and your story.
I grew up in a small conservative town within south Florida. From a young age I felt I was different, and being different was not accepted. As a young child I heard that it was a sin and abomination to be someone like me. And during my early life I spent most of my time in church (several days a week in-fact) searching for answers on how to change…I wanted to feel loved, I wanted to be accepted. I even went through conversion therapy, the church convinced me to go through "exorcisms" and other types of "deliverances" from same sex attractions. I thought the therapy would help me change, but I later realized it caused a lot of trauma and heartache. Constantly fighting this feeling of not being loved or accepted is something I still work through daily.
In the early 2000's I was introduced to drag through some friends I had met. Eventually, I dressed up a few times for parties and events; later on I began to learn more about makeup and the different styles of drag. In 2009 while my husband and I were in California, I was told about a LGBT youth center in Long Beach that needed help raising money. So a couple other people and myself decided to throw a variety show at a local coffee shop to raise money to help them out. We had drag performers, poets, singers and musicians all coming together to help. We raised a lot of money that night, it was a huge success.
I had always felt my drag was different. I didn't want to be a typical stereotype drag performer. I wanted to help raise money and support communities while in drag, but through a way to show that people are loved and accepted.
About 3-4 years later, when I moved back to Florida, I started co-pastoring a small LGBT church in a neighboring county. I was also meeting drag performers within the Kissimmee area. Together we performed in numerous shows and events. By then I decided I wanted to be more involved with drag and include it within the church and community. Pastor by day and drag queen by night. We did a couple variety and drag diner shows, one being called "The Gospel According to Momma", the motto at the time was "Spreading Gods love in wigs and heels". Someone who wouldn't perform the normal club type drag but spread the message of Jesus and love. I was going to be a gospel queen. I told a friend of mine I wanted my show to be a family friendly drag performance that was accessible for all ages and types of people. He told me "Momma you have something to offer that no one else does; you can do this!" Those words have stuck close to me.
After several years of trying "Spreading Gods love in wigs and heels"…it wasn't working, it just wasn't sticking. Something had to change. I was given tickets to the "Dixies Tupperware party" in West Palm Beach. This show is about a drag queen who sells Tupperware but in a comedic way. I think I cried as much as I laughed, it was truly life changing. She shared a story about a duck in a pond. Someone threw a stone into the water causing ripples and the ripples moved the duck. The way she explained it…how powerful a small act can cause a ripple to change/help people. Listening to her tell stories of empowerment and the way she made people laugh was amazing. I walked away realizing I could indeed make a difference and change the world!
After establishing some direction, I started the first family-friendly, charity-based drag pageant "Miss Rose Dynasty". One of my dreams was starting to unfold. It started with a pageant and we raised over $900 for our first charity. While speaking to the crowd, I realized that my motto was no longer to "Spreading God's love in wigs and heels" but what I wanted to do more than anything was to spread a message that EVERYONE is LOVED, ACCEPTED and WANTED! No matter who they are.
Sometime later, my husband and I relocated to central Florida. We attended our first Polk pride event; set up a booth and began to network. We met so many families that couldn't believe I was a "family-friendly drag queen". Parents began to ask for drag queen storytimes and other events for families. Along with raising money for other local charities and nonprofits, I began to work with and mentor LGBTQ+ youth and families. Our group began to grow within Polk County; then through central Florida and eventually making its way to northern Florida.
In 2017 Rose Dynasty Foundation INC. was established as a nonprofit organization. We began to move forward with the vision that was slowly coming together. Continuously raising money for local events and charities, while also working on our second and third drag pageant, we had raised thousands of dollars.
In 2019, I started drag story time, Polk counties first drag story time, along with Rose Dynasty teen group that met monthly. I have had the privilege of doing numerous drag shows, dinner shows, bunches, bingos, children shows, story times, and much more! We have helped start and run food pantries, providing education and acceptance for all. Finding creative ways to help the community.
I want more than anything to teach this next generation how to take care and love others, and one way of doing it is through philanthropy work and spreading the message of love, accepted and wanted to the world.
I believe this is just the beginning. I would love to see Rose Dynasty all over the US and eventually the World. Spreading the message of love, accepted and wanted, while providing a safe space for all. Rose Dynasty will continue to tear down the walls of division and separation, while spreading our motto.
Let's continue to be kind, spread love, help others and make a difference in people's lives.
Never forget you are Loved! Accepted! And Wanted! – Momma Ashley Rose/Jason DeShazo
Alright, so let's dig a little deeper into the story – has it been an easy path overall and if not, what were the challenges you've had to overcome?
It hasn't always been smooth or easy. I outlined some in the previous question. I can say I have had some ups and downs. People not understanding, Self-esteem and PTSD from Religious trauma, and so much more. But as I always say Life sometimes gives us a 2×4 or a stone. It is up to us what to do with them. Beat yourself or someone else up OR lay them down as another part of your journey to build that bridge or path to keep moving forward.
Can you tell our readers more about what you do and what you think sets you apart from others?
I have been able to establish Rose Dynasty Foundation Inc. Which has many facets from the Miss Rose Dynasty Pageant, Drag Storytime, Monthly Charity Brunches and weekly charity Bingos, Speaking at Local schools and communities., Teaching diversity and inclusion, Love and acceptance. Hosting and working many types of community events from Art crawl, holiday events, Art shows and markets, variety shows parties and more.
What sets us apart is I am a family-friendly Drag queen our events and shows are for all ages. I take a lot of pride in providing that safe space for everyone! Also, I have had the amazing opportunity of raising over $100,000 dollars for various charities throughout the years.
How can people work with you, collaborate with you or support you?
We are always looking for Volunteers, Donors ( monthly and one-time), sponsors and resources for our youth and families. We are always in need of those things.
I am available for speaking engagements and performances. I also help others organize and do fundraisers and events. So I'd love to hear from anyone who is willing to assist in the work we do!
You can sign up for a one time or monthly tax-deductible donation on our website www.rosedynasty.org/donations